Water Slides Rentals Houston & Humble Kingwood Tx Birthday Party Business Events Church Corporate and more Paulinas Party Rentals Call English Cell 281-442-0907 or Español 281-442-0903 – Address 4706 Anice St, Houston, TX 77039
Water Slides Thanks for visiting us company serious, responsible and excellent service to our customers and we think you have a price for you all please call 281-442-0907 we rented for parties, schools, festivals, grand opening events for churches, businesses, school districts, small medium and large companies.
WELCOME
"WARNING PLEASE CHECK YOU ZIP CODE DELIVERY CHARGES"

Water Slides We do it with the best party you so call today to Paulinas Party Rentals in Houston! We have accessories and equipment rental for the big day throughout Houston and surrounding areas. The Jumpers will make your party the next big success you want in your party. With one simple call, 281.442.0907 you can have everything you need, from children's play equipment and accessories for her birthday party, Halloween party, New Year party, business events, church events, events multilevel, corporate events and more.
281-442-0907 



WHY CHOOSE WATER SLIDES PAULINAS PARTY RENTALS ?
We have a wide variety of interactive inflatables and trampolines for all ages

The best prices Houston and economic prices to you.

Stock of brand new products. we are your best choice to amuse your guests.

Inflatables disinfected and cleaned before delivery.

Our customers, La Michocana, El Ahorro Supermarket, Houston School Districts and many corporate clients rent with us.

Excellent service to our customers.
WATER SLIDES
are the ideal gift for children. birthday is celebrated during the summer months?. If you're actually planning a birthday party for your child, why not make a pool party and ask everyone to come and have fun in the water slide? But, of course, they will take center stage. If you do well, you may have just been given the best birthday party of the season.
****All rent water slides NO included hose***
A regular Water/Garden Hose and continuous water supply is required
Children are naturally active. They want to bounce, slide and jump. During the summer, these activities are best enjoyed in the pool. But thanks to the slides, do not have to go to the pool. This means doing the exercise at home.
Bounce house rentals also make a great choice for birthday parties for kids and just enjoy the sensation of jumping on a surface, is like being on a trampoline. These houses are comparatively smaller in size and are sometimes separated into small compartments with small bows to create a maze-like structure, but in summer the children appreciate and is the best place for it.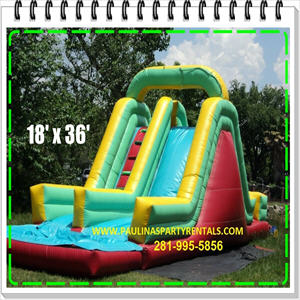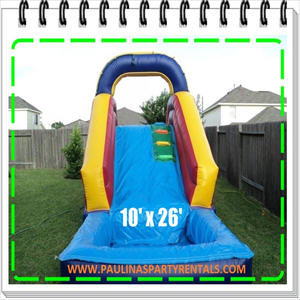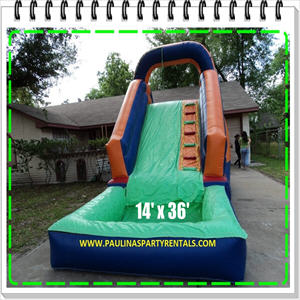 ****All rent water slides NO included hose***
A regular Water/Garden Hose and continuous water supply is required
A child would not mind if he will be celebrating his birthday at home. During the time that you give a gift, also always remember the fun we had and that big smile on your face every time you see them, In addition, the is something you can use and enjoy for a long time.
The next time your kids say they want a consider carefully. Maybe a hint that really appreciates this great gift from you. And as with all children, if you can give them exactly what they like, it is easy to become the best parents in the world.